If you're reading this article, you've likely already chosen to work your way to a professional salary with GameDevHQ's training.
Obviously a lot more than money goes into what makes a job "good" or "bad." How does it affect your mental health? How does it affect your physical health? Do you get time for other parts of your life? Do you feel secure? What are the perks? How's the commute? Is there even a commute?
But, let's be real, money is a vital factor for taking a job. So, with a career using Unity, just how much money could you make?
Game Developers Are Always Needed
Starting with the obvious job type, game developers using any game engine make an average salary of over ninety-eight thousand dollars per year—that's around forty-seven dollars per hour—according to ZipRecruiter. It's no surprise that the gaming industry provides several opportunities to professionals; as of 2022 the gaming industry is worth over $300 billion.
Considering our company has "game dev" in the name, I'd say this is the right place to be if you want to work toward an impressive salary in this industry.
Working for Unity Technologies Itself
Unity has so many features and tools now. But every bit of code behind them is from someone keeping their nose to the grindstone. It only feels right to see how much someone could make working for the company behind the popular game engine.
Per Indeed, software engineers at Unity make an average salary of $173,000. Also reported on Indeed is an average salary of $270,000 for a principal software engineer.
Animators Rejoice
In recent years Unity has really worked on its animation tools, thanks to dedicated software developers incorporating physics systems and studying animation principles. In fact it has come so far that Walt Disney Animation Studios actually used Unity for some short animations. If animation jobs at Disney continue to incorporate technical software from Unity, you might score a salary of close to $60k, according to Glassdoor. Salary.com agrees, with a reported average of $61k.
But what about other animation companies?
Glassdoor alleges $84k for animators at Meta, the recent rebranding of Facebook, Inc. after an acquisition of other companies such as Instagram, Oculus VR, and WhatsApp. Salary.com, ZipRecruiter, and Glassdoor all report similar earnings for an animator in Atlanta, Georgia at an average minimum of $30k to $40k and an average maximum of $90k to $110k. These sites also claim similar salaries for animators in Montreal, Quebec, for reference.
While traditional 3D modeling and animation software has the lead on creating, rigging, and animating characters, Unity most likely isn't far behind. With a strong community of developers, a massive asset store, and a company constantly asking how to beat out other engines, I have no doubts that animation needs will continue to be implemented. And big-name companies prefer exclusive programs for their production, meaning the need Unity developers who can create animation tools won't be very limited.

Technical Architecture With Unity
Unity has gotten into the architecture game recently. With the ability to simulate physics of a building and create augmented reality displaying a new building in an existing lot, technical architects (also called I.T. systems architects) are a growing need. Glassdoor boasts a salary of $146,000 for the average I.T. systems architect.
User Experience Designers and User Interface Designers Do Well
Glassdoor and Payscale show a range of salaries from $53k on the low side average to $100k on the high side average. Since interactive touch screens, such as those used for ordering food or determining a visitor's location, are possible to program in Unity, this won't be a career going out of style any time soon.
AR/VR/MR/XR Is A Hot Field
If you follow the game industry closely, you've probably come across terms like "augmented reality" or "virtual reality." These reality-altering modes have been growing since their conception. In fact, players spent over $4 billion on VR games just two years ago. You could definitely find yourself developing software for a triple A studio's game engine. But it doesn't stop there. AR, VR, MR, and XR have been branching out of games and into training and educational programs. Educational technology is already very popular in modern zoos, museums, etc.
You have probably noticed LED screens with slideshows about certain artifacts in cases attached to the screens. If you visited a history museum, you may have seen bits and pieces of art or architecture that was destroyed due to age, war, or other events. Wouldn't it be interesting to take a holographic tour of the Executive Mansion—the predecessor to the White House in Washington, D.C? Or maybe you could create an AR program that brings up factoids about a piece when wearing special goggles!
Perhaps you've been to a zoo that shows facts about a featured animal or its species. It wouldn't be far-fetched to think zoos will use interactive projections of animals. Perhaps the purpose would be educating people on the dangers of keeping wild animals as pets. Or maybe visitors could "pet" and "feed" a virtual tiger. Additionally you might work on a program that educates the general population on how to care for injured wildlife before a specialist arrives.
Even sports are interested in altered-reality developers. Minnesota Twins baseball stadium incorporated AR very recently. With it spectators can learn players' stats and learn other information about the competing teams' victories and losses.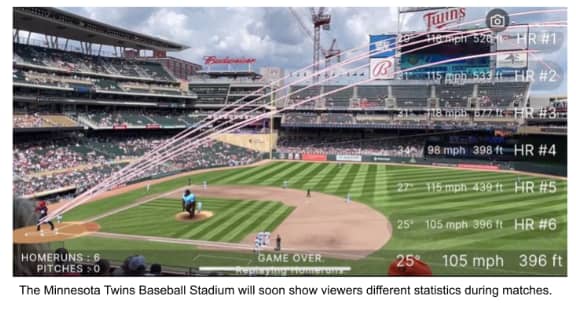 In addition to working for some really interesting sites, you could bring in a salary of close to $85,000, according to ZipRecruiter. Our own company has trained several XR developers – some who now have salaries of over $90k!
Other Jobs
Simulations are becoming a major product for Unity developers. While your salary would depend on the product, the time taken, etc, there are plenty of simulators needed: crash tests, emergency response training, first aid education, marketing training, and several other simulations which work as a cost effective replacement for physical tools.
As Unity continues to expand its features, more opportunities to cross-professions will come. You could work with lighting directors, earning between $30k to $70k. Or with meteorologists, making between $40k and $100k. There are plenty of possibilities and plenty of salaries.
But remember to get your foot in the door first. We're here to help with that.